Coffee does not run out of one or both spouts - Built-In Coffee Maker
Last updated
Possible Solutions
Cleaning the Coffee Spouts
Clean the spouts regularly using a damp sponge or cloth.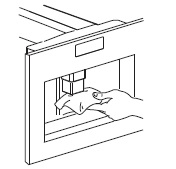 Regularly check that the holes in the coffee spouts are not blocked.
If they are, remove coffee deposits with a toothpick as shown.
If you would like to download or view product literature for your appliance, please visit our Manuals and Literature page.
Still need help? Contact us or schedule service.
Please contact us or click below to make an appointment from our preferred list of service providers for service on your appliances.