Brown Stains on Dishes or Dishwasher Interior After the Cycle
Last updated
Brown Stains on Dishes or Jenn-Air Dishwasher Interior After the Cycle
Brown stains are likely due to high iron content in the water supply.
In order to remove stains, use affresh® Dishwasher Cleaner in the covered section of the detergent dispenser and re-wash dishes (after food soil has been removed). Do not use detergent. Follow with a normal wash cycle with detergent. If treatment is needed more often than once a month, the installation of an iron removal unit is recommended.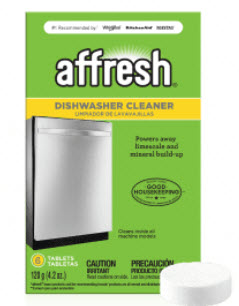 affresh® cleaners are available at many retailers. Find one here.