Continually Runs - Trash Compactor
Last updated
Possible Solutions
Is the cabinet opening the correct size?
There should be a minimum 1/8" clearance on each side of the compactor. Refer to the "Cutout Dimensions" section of the Owner's Manual and the picture below.
Is the compactor centered in the cabinet opening?
Center the compactor in the cabinet opening.
Is the compactor attached to the cabinet with the mounting brackets?
If the compactor is not properly attached to the cabinet with the supplied mounting brackets, it is possible that the compactor may move during use. This movement may cause the compactor to not be centered in the cabinet opening. Ensure the compactor is attached to the countertop or cabinet. Reference the Installation Instructions in the Owner's Manual.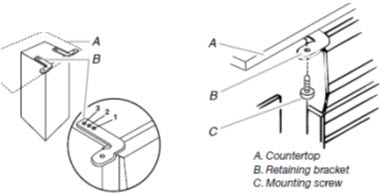 Is there debris in the drawer area?
This may cause the door to disengage from the drawer monitor switch, causing the compactor to keep running. Remove the drawer per "Cleaning Inside the Cabinet" instructions in the Owner's Manual. Look for debris which could hinder the drawer from closing properly. Replace the drawer.
Is the latch locked?
An unlatched drawer will cause the front door to be wobbly and offset from the center. Ensure the latch is locked.
Open the drawer and ensure the latch is in the locked position by pressing down on the latch (pictured below). Close the drawer and run another cycle to verify the problem was the latch.
Is the compactor level or too high?
The compactor can be raised or lowered with front leveling legs. Place a level horizontally on the top of the cabinet to verify the compactor is level. Adjust as required.
Still need help? Contact us or schedule service.
Please contact us or click below to make an appointment from our preferred list of service providers for service on your appliances.